How it works:
Put the cut fabric diamond onto the unprinted side of the Quickscreen Triangle.
Position the first strip of fabric on the right edge of the Quickscreen Triangle with the right sides facing. Fasten the strips with pins (across the top and bottom of the strip of fabric) and turn the work.
Stitch along the solid line (always sew on the printed side).
Turn, fold the strip over and cut off overlapping strip material. Then repeat steps 2 and 3.
Lay the finished diamonds on top of one another with the right sides facing and sew together with a 1-cm seam allowance.
Further creations by Vilene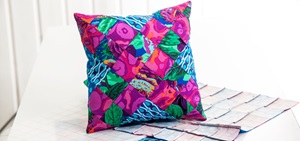 Now sew cushions with square patterns easily and exactly with Quilter's Grid.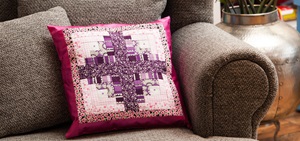 Patchwork cushion - Video
Make yourself comfortable on your couch with a self-made patchwork cushion.