Description and benefits
Properties
Medium-weight spunbond nonwoven made of high-strength synthetic fibres.
100% PES
125 g/ m2
Fabrics:
Unlimited possibilities of use in the creative area, e.g. for the experimental design of surfaces, painting, home decoration, interior design, envelopes, bags, templates, pelmets and curtains. Suitable for all fabrics.
Product benefits:
does not fray out

firm and tear-resistant

ideal for creative children as a picture canvas
---
Description:
Ideal for various applications, textile envelopes, also for home decoration and interior design. It can be painted, sprayed, dyed. Appliqués with Vliesofix are possible on CS 800, too.
---
Important notice
We recommend to test the products before starting processing.
---
Creations with this product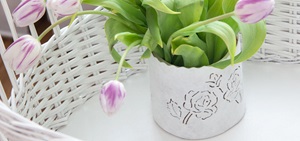 Simply conceal your old, boring flower pots with a self-made cover.