Description and benefits
Properties
Heavy-weight, soft and compact sewable batting made of synthetic fibres and featuring good heat and cold insulation properties.
100% PES
180 g/ m2
Fabrics:
For pot holders and pot mats (use at least two layers), chair and sofa covers, patchwork and quilting. Can also be used as an ironing pad (use at least two layers) and as an ironing cover for the protection of sensitive fabrics (pearls, sequins). Suitable for all fabrics.
Product benefits:
soft in spite of high density

medium volume

simple to use

Iron on setting Thermolam below
---
Description:
Simply lay underneath and sew together. Setting Thermolam 272 below to improve the ironing result and to protect delicate fabrics.
---
Important notice
We recommend to test the products before starting processing.
---
Creations with this product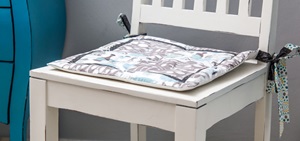 Used outside on the terrace or inside – you'll always sit comfortably with this cushion.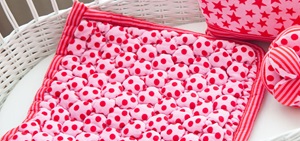 Crashing with a difference
Sew a warm mattress pad for baby's cot using a special technique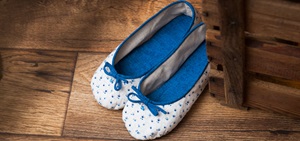 You've had enough of heavy, dreary slippers? Why not sew your own slippers – light on your feet and to top it all, good to look at.