75 years of VLIESELINE® – a textile success story
In 1948, the currency reform comes into force. King Charles III is born, the WHO is founded and the remote control is invented. While the world is restructuring itself, chemist Dr Carl-Ludwig Nottebohm, commissioned by the Freudenberg company, experiments with a nonwoven as a base material for artificial leather products and clothing in Weinheim. VLIESELINE
®
is produced for the first time. 75 years later, VLIESELINE
®
has become indispensable for the most diverse kinds of applications in the textile industry. VLIESELINE
®
products range among the best-known and bestselling interlinings for amateur tailors, fashion studios and professional tailors. Whether it's seams, edges, hems, tapes, loops, appliqués, patchwork or quilting – the premium-quality and easy-to-process interlinings are the basis for perfect solutions.
A textile success story – with an exciting past. And future!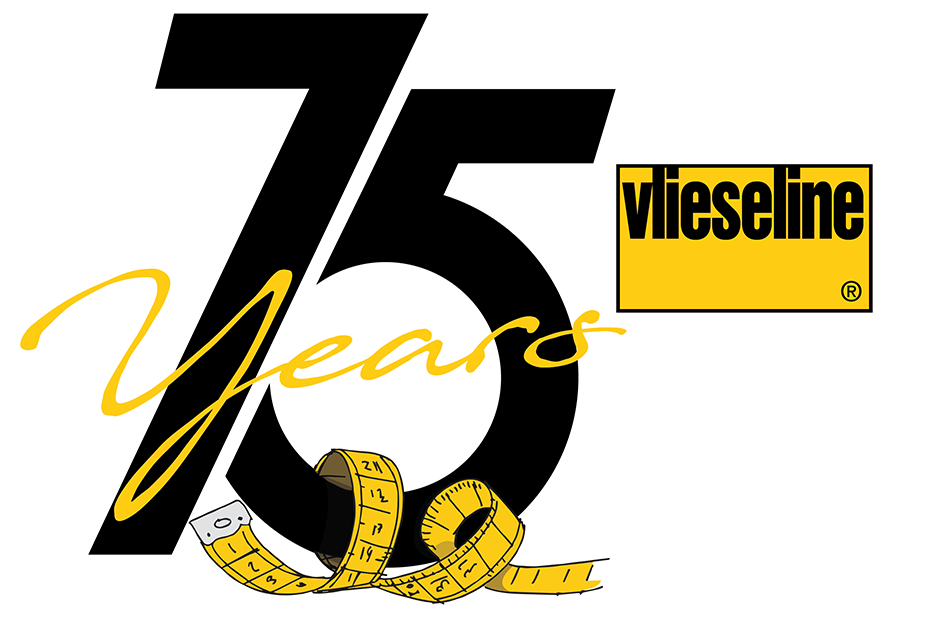 A material of distinction – and yet so discreet
It can be used for fashion, the household, health and a lot more. The nonwoven. We come across it every day and yet we do not see it. Whether it's a jacket lining that keeps us warm or a face protection mask – who would have thought that an "invisible" interlining would develop into an indispensable must-have of distinction? For example, in the textile industry: VLIESELINE®, Freudenberg's range of interlinings for clothing and creative needlework, will be 75 and is presenting itself today as an "elderly lady" and trendy influencer at the same time. We'd like to see anyone else do that! She lends fashion, accessories, theatre and carnival costumes as well as creative needlework of any kind optimum fit, sophisticated effects, comfortable warmth and the necessary stability that many eye-catching garment needs for its amazing effect. Or as "Der Freudenberger", the company's employee magazine, affectionately headlined in 1954: "The wonder under".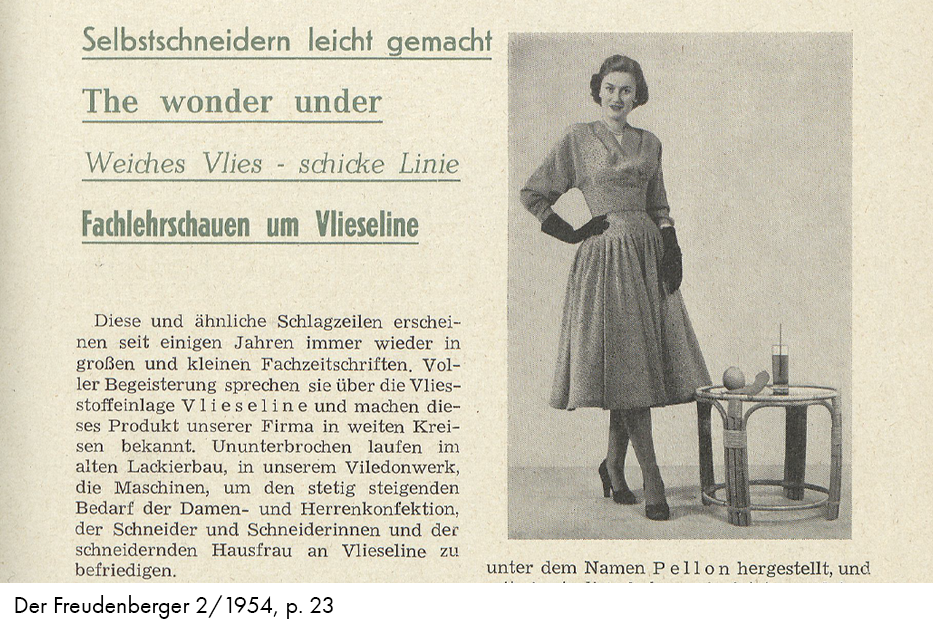 A material with a past – originally born out of necessity
For many years, leather was the only product sold by Freudenberg, the company that was established in Weinheim in 1849. When there was a shortage of materials in the mid-1930s, the company – at that time one of Europe's biggest leather manufacturers – responded with the research for materials that could substitute leather in a lab specially set up for this purpose. At almost the same time, i.e. in 1936, Freudenberg extended its portfolio by synthetic leather having a nonwoven as a base material. This was precisely what young chemist Dr Carl-Ludwig Nottebohm (1904-2001) had developed. After the currency reform, when real leather was available again, VLIESELINE®'s triumph started at the end of the 1940s – as an interlining for the textile industry. In 1948, the production of VLIESELINE®, the innovative, iso-elastic nonwoven interlining started. The great number of patents and ideas of Freudenberg's nonwoven pioneers and experts forms the solid foundation for extensive expert knowledge thanks to which Freudenberg has kept setting standards up to the present day.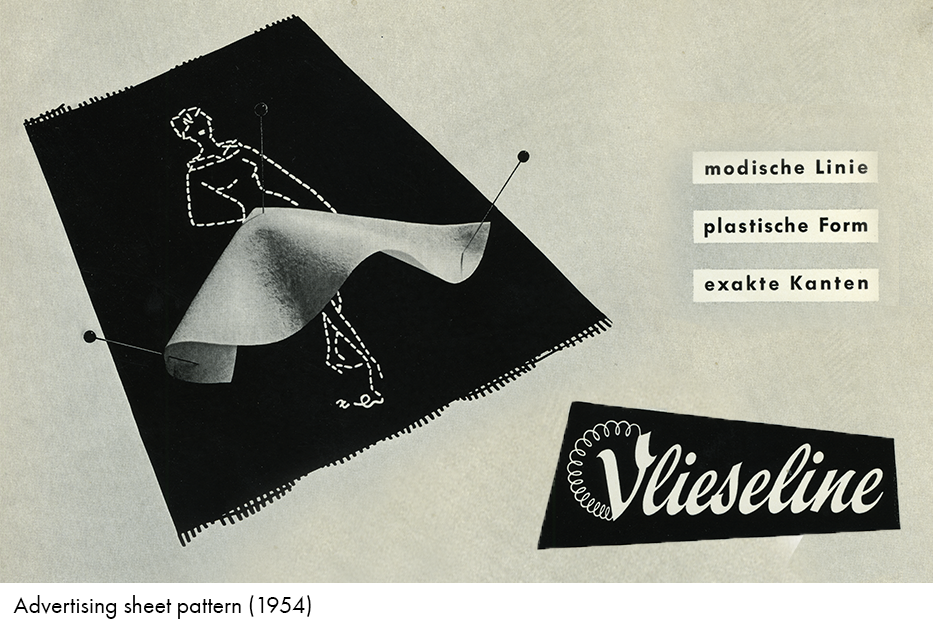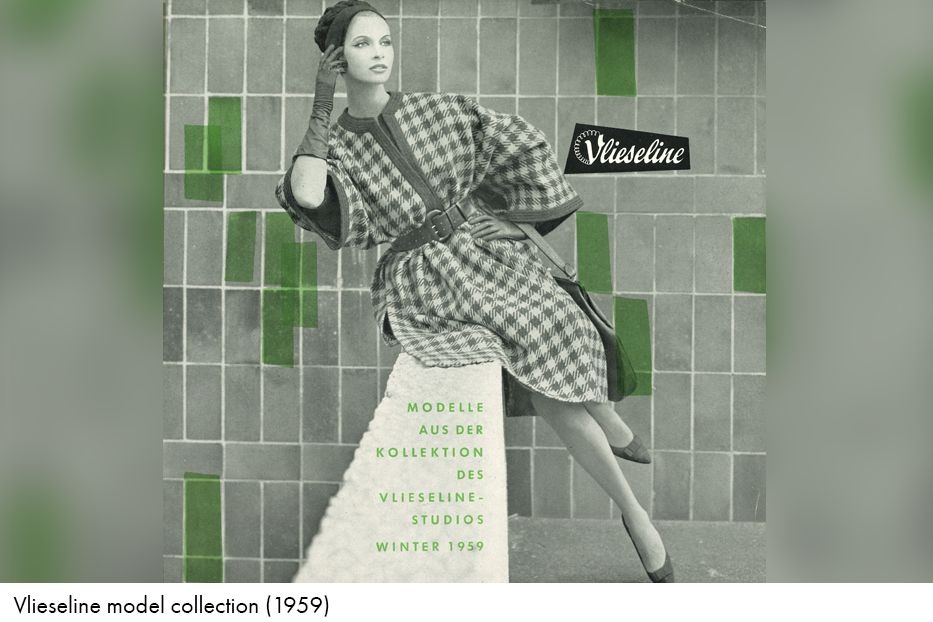 A material for fashion – via models into the world
The nonwoven found its way into the world of fashion and costumes via the VLIESELINE® Studio: There, skilled tailors produced semi-finished garment parts to visually demonstrate the use and processing of VLIESELINE®. Through publications in the trade press and in cooperation with the Institut für Modeschaffen [Fashion Institute] of the City of Frankfurt, Freudenberg informed publishers and tailors about the special methods of processing VLIESELINE® in the early 1950s. This trade information was completed by brochures such as "Schneidere mit VLIESELINE®" [Dressmaking with VLIESELINE®] and a personal consulting service.
From 1952 on, fashion shows and later on so-called DOB-Zirkel [ladies' wear expert meetings] took place with presenters, models – who were then referred to as mannequins –, VLIESELINE®'s own garment models, sketches and drawings on patterns in Western Germany and later on abroad, even in Australia, New Zealand and South Africa. VLIESELINE® had made it to the catwalk. In the 1980s and 1990s as well, VLIESELINE® continues its strong performance: The influences of the clothing industry are integrated into the company's product portfolio and have significantly enriched the DIY creative range up to the present day.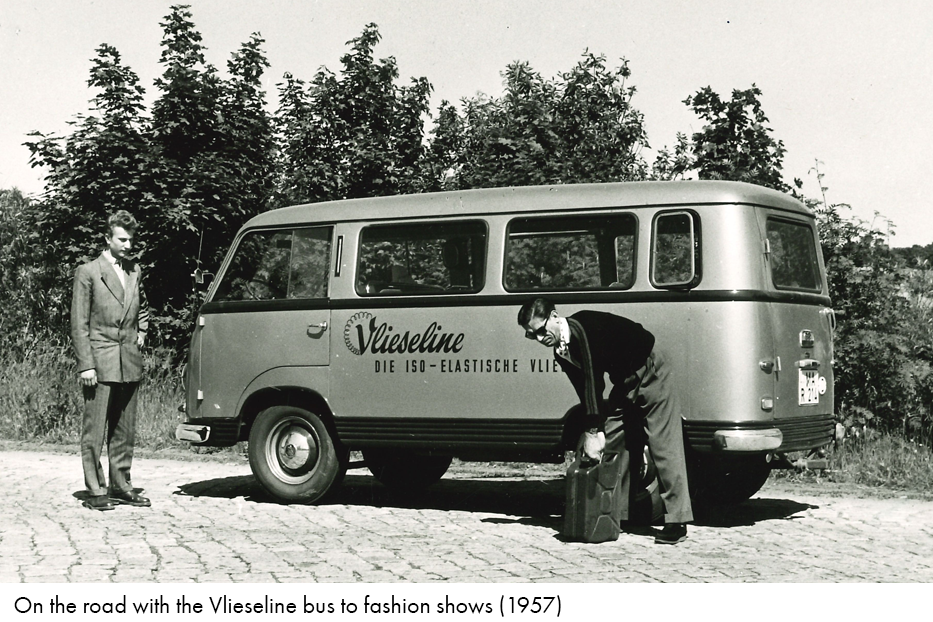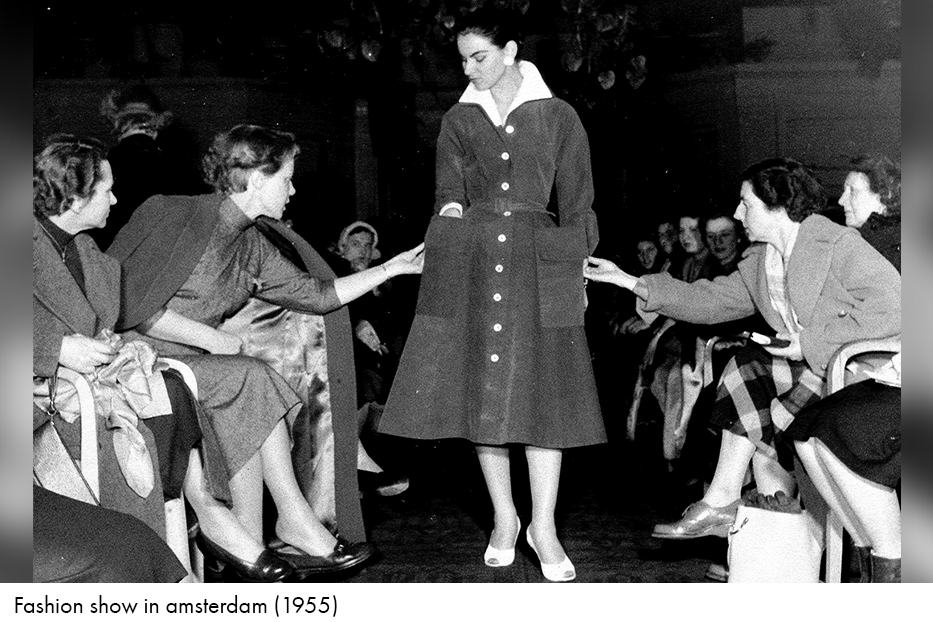 A material for the future – VLIESELINE® sustainability
Since 2006 already, natural materials such as merino wool, viscose and bamboo have become more and more important in the production of VLIESELINE®. Since the 2010s, Freudenberg has increasingly relied on the development of interlinings made of up to 100 per cent recycled fibres and is conquering the market as a sought-after supplier of interlinings and wadding made of recycled materials. It is not only the environment which benefits from this development but also all semi and professional workshops because VLIESELINE® adapts the novelties of the industry and takes them to the consumer.
In doing so, Freudenberg once again comes closer to the company's target of reducing its footprint and enlarging the handprint for its customers and end consumers. This means that we keep optimising our environmentally friendly processes and help our customers to make their own contribution to sustainability with our sustainably made products.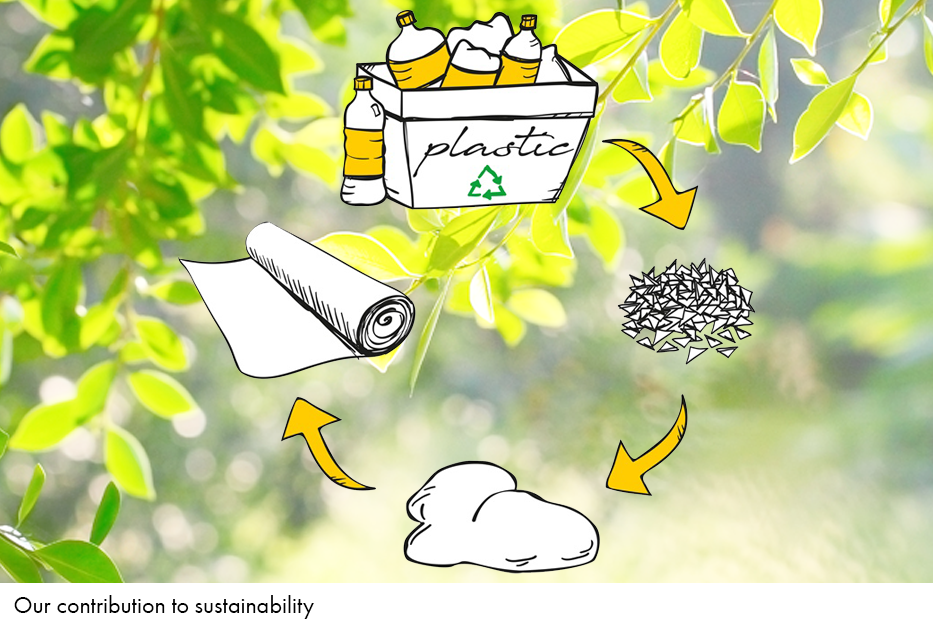 The material ideas are made of – VLIESELINE® is indispensable
Be creative with VLIESELINE®
This is the slogan by which VLIESELINE® presents itself today at the age of 75 – and that not only annually at trade fairs such as the h+h cologne but also 24/7 as a YouTuber, Instagram star, DIY blogger and influencer in the most important social networks, for example with "VLIESELINE® – einfach erklärt" [sewing made simple] on YouTube. Swatchbooks, product information, data sheets, instructions and other media are available in digital format. No matter whether it's patchwork, quilts, a baby sleeping bag, table runners or blankets: Thanks to its going with the times, VLIESELINE® has kept up its DIY heroine status up to the present day.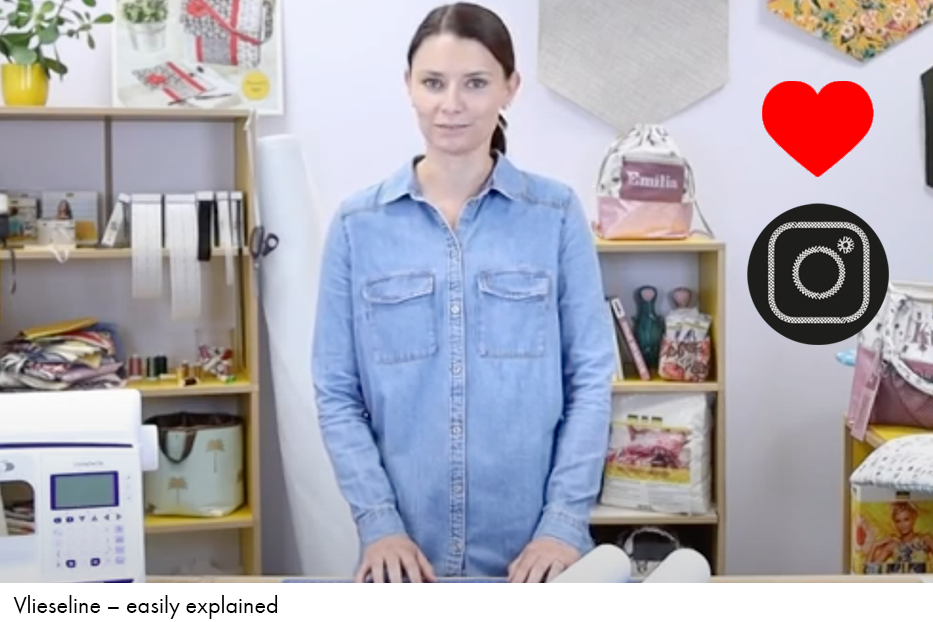 VLIESELINE® – Always wants to know more. Creative. And colourful. Here's to the next 75 years.