Description and benefits
Properties
Medium-weight, stable, sewable pelmet interlining made of synthetic fibres.
Fabrics:
For postcards and greeting cards and other creative work. Suitable for many fabrics.
Product benefits:
firm interfacing

good to sew
---
Description:
Vilene S 80 is a firm interfacing which is ideally suited for pelmets and creative works like postcards, collages, bags, etc.
---
Important notice
We recommend to test the products before starting processing.
---
Care
machine wash 30° permanent press

dry cleanable
Sales unit
Sold by the meter:
30 cm
90 cm

Creations with this product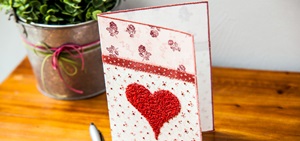 Send a self-made greeting card with Bondaweb and S 80 to show that you really care.