Description and benefits
Properties
Self-adhesive and water-soluble embroidery backing on transfer paper.
100% PVAL
67 g/ m2+ Papier
Fabrics:
For all kinds of machine embroidery, new creative techniques and as an ideal sewing aid for mini-quilts. Suitable for all fabrics and textile materials that are washable and sewable; especially suitable for elastic fabrics.
Product benefits:
cold-water-soluble

self-adhesive
---
Description:
Use Solufix as the base for the CRAZY-Technique. The desired and individual design sticks on Solufix and can be processed without any problems.

Place a layer of Solufleece on top and stitch all layers together – criss-cross or in a grid.

Wash away Solufix and Solufleece in lukewarm water – done.
Important: Do not iron or tear off!
---
Important notice
We recommend to test the products before starting processing.
---
Creations with this product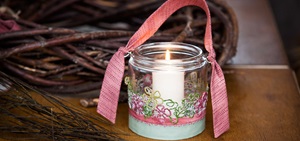 Embroidered table lantern
Decorate boring table lantern glass with a border you have embroidered yourself - quickly and easily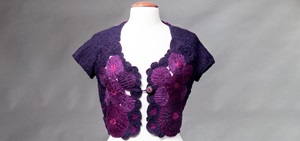 Solufix & Solufleece - Video
You can now put your old wool and thread remnants to ideal use with the water-soluble embroidery backings Solufix and Solufleece - create your own modern woollen waistcoat.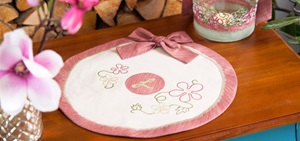 Place mat – an all-rounder
Decorate your dining table with a self-made place mat – a modern alternative to a tablecloth.