Description and benefits
Properties
Sewable, tear-off embroidery backing.
70% CV, 30% Cellulose
40 g/ m2
Fabrics:
Backing for embroidery and appliqués, sewing aid for the individual design and production of patchwork patterns and stitching work and for the transfer of motifs to the right side of fabrics. Suitable for all fabrics. Also suitable for embroidery hoops.
Product benefits:
accurate results

no stretching of the fabric

can be traced using a soft pencil

easy to tear off
---
Description:
Put a piece of Stitch-n-Tear somewhat bigger than the motif under the fabric and embroider.

Then tear out the Stitch-n-Tear.
---
Important notice
We recommend to test the products before starting processing.
---
Creations with this product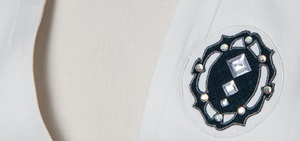 Stitch around your appliqué on the blazer with tear-out Vilene Stitch-n-Tear.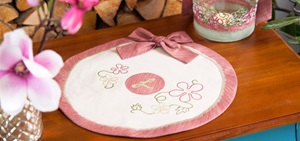 Place mat – an all-rounder
Decorate your dining table with a self-made place mat – a modern alternative to a tablecloth.