Fusible Interlining LE 420
Application
Application areas
For the fusing of small parts and front parts on the jackets, coats and dresses. Suitable for nappa leather and suede, leatherette fabric and faux fur as well as heat-sensitive fabrics.
Processing
1. Lay the interlining with the adhesive side facing the reverse side of the fabric.

2. Iron (iron setting: silk/wool, 1–2 dots) for 10 seconds, section by section. Do not push the iron.

3. Lay the fused pieces down flat to cool off for around 30 minutes.

4. Important! The fixing conditions of different materials can vary and must be established by performing your own tests.
Advantages
• Easy to work with as it can be ironed on dry

• Strengthens the shape without changing the texture

• Does not cause the leather to become harder

• Easy to sew without any shifting of the item
Care recommendation
Processing information
We recommend testing the products before using them in your project.
You might also be interested in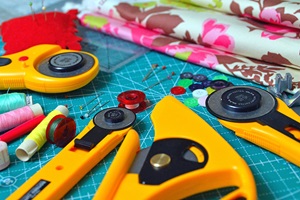 Let our sewing instructions inspire you to create new projects.