Description and benefits
Properties
Light-weight fusible tape made of synthetic fibres, with stabilising vertical threads.
100% PA
43 g/ m2
Fabrics:
For the stabilising of edges of e.g. shoulders, facings etc. on blazers, jackets and coats. Suitable for all fabrics.
Product benefits:
no stretching

easy to iron-on

durable perfect shape
---
Description:
Lay out to the desired shape and lightly iron, about 8 seconds in each area. For rounded edges, crimp the tape into small pleats and press into the desired shape.

Do not cut notches as this could cause the stabilising strengthened grain to fray.

Allow the pieces to cool flat for about 20 minutes, so that the adhesive can set properly.
---
Important notice
We recommend to test the products before starting processing.
---
Creations with this product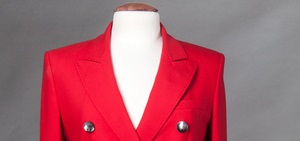 Use Vilene Edge Tape as the ideal reinforcement for the front edges of your blazer.