Description and benefits
Properties
Sewable tape of a very high and permanent elasticity. Chlorine-resistant.
100% PU
160 g/ m2
Fabrics:
For the securing of elastic seams, e.g. shoulder seams of ladies' wear, lingerie, swimwear and sportswear and also for creative accents such as gathers, ripples and ruffles. Suitable for all fabrics and transparent fabrics.
Product benefits:
very high elasticity and very strong

resistant towards bleach

not allergenic
---
Description:
Cut Framilastic to size, but shorter than the length of fabric to sew and depending on how much gathering you want.

Sew on the tape smoothly at the beginning of the fabric to be gathered at a length of approx. 1 cm. Then stretch your tape to the desired length and sew it on while stretched.
---
Important notice
We recommend to test the products before starting processing.
---
Creations with this product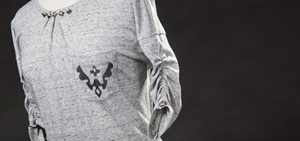 Gathering on sleeves as an eye-catcher with the help of Framilastic