Description and benefits
Properties
Medium-weight, slightly roughened fusible woven interlining made from cotton fibre.
100% CO
75 g/ m2
Fabrics:
For the fusing of small parts and front parts of jackets and coats. Suitable for medium- to heavy-weight fabrics.
---
Description:
Like all interfacings made by Vilene, the interfacing is always cut in a lengthwise direction, and thereby follows the grain of the fabric.

Place the interfacing with the coated side on the wrong side of the fabric. Cover with a damp cloth and press each area for about 12 seconds, without moving the iron.

Iron setting: Cotton

Allow the pieces to cool flat for about 30 minutes, so that the adhesive can set properly.
---
Important notice
We recommend to test the products before starting processing.
---
Creations with this product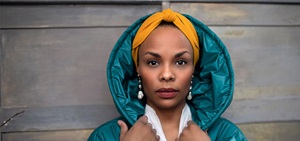 The fashionable hair band embellishes any look.